Blueberry Martini Recipe
Blueberry Martini is one of the best fruit infused martinis prepared with flavored vodka and fresh blueberry juice. This cocktail not only looks exotic but also tastes exotic and it's ideal for those impromptu poolside parties.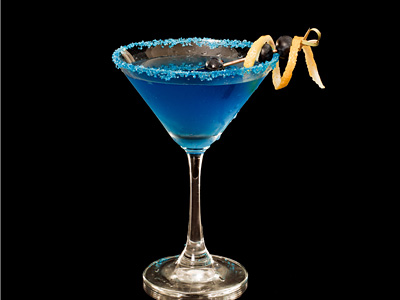 Preparation Time:
3 minutes
Glassware:
Cocktail Glass
Ingredients:
60 ml (2 oz) Blueberry Vodka
30 ml (1 oz) Fresh Blueberry Juice
30 ml (1 oz) Triple Sec
30 ml (1 oz) Lemon Lime Soda
2-3 Fresh Blueberries (for garnishing)
1 Lemon Twist (for garnishing)
Bar Sugar (for garnishing)
Lemon Juice (for garnishing)
Ice Cubes
Directions:
Frost glass' rim with bar sugar by first dipping it in lemon juice and then in sugar.
Add first four ingredients in a cocktail mixer.
Fill it with ice cube until 2/3 capacity, close the lid and shake vigorously for few seconds.
Strain and pour chilled drink into garnished serving glass.
Skewer fresh blueberries in cocktail pick and place it on the rim of glass, arrange lemon peel around it and serve the the drink.
Tips and Variations:
You can use citrus vodka instead of blueberry flavored vodka.
Replace triple sec with blueberry liqueur.