Cappuccino Martini Recipe
Enjoy creamy and refreshing flavor of cappuccino and kick of a cocktail with cappuccino martini. This simple spirited drink recipe uses Baileys Irish cream with a hint of coffee, Kahlua coffee liqueur and chocolate flavored vodka to recreate the creamy taste of truly Italian cappuccino. Unlike hot cappuccino, this cocktail must be served chilled though.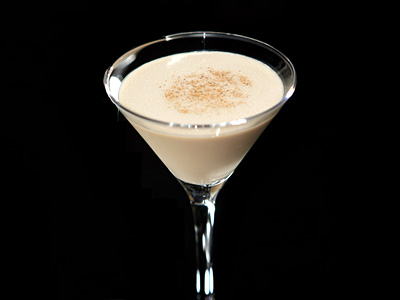 Preparation Time:
3 minutes.
Ingredients:
60 ml (2 oz) Chocolate Vodka
60 ml (2 oz) Baileys with hint of Coffee Liqueur
30 ml (1 oz) Kahlua
30 ml (1 oz) Half and Half
1 Chocolate Bar or Coco Powder
Ice Cubes
Directions:
Take all ingredients (except chocolate bar) in cocktail shaker filled with fresh ice.
Shake cocktail shaker thoroughly for 25-30 seconds. Strain and pour mixed drink into chilled martini glass.
Garnish with chocolate bar or with coco powder and serve.