Peach Mimosa Recipe
Peach mimosa is a delicious and light brunch drink made by mixing peach juice, orange juice and prosecco. The heavenly taste of peach compliments the taste of prosecco, making it one of the best peach cocktail drinks.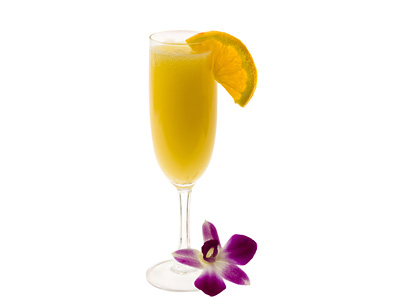 Preparation Time:
3 minutes
Glassware:
Champagne Flute
Ingredients:
90 ml (3 oz) Peach Juice (chilled)
90 ml (3 oz) Orange Juice (Chilled)
180 ml (6 oz) Prosecco (chilled)
1 Orange or Peach Slice
Directions:
Take two chilled champagne flute glasses, add 1½ oz (45 ml) peach juice and 1½ oz (45 ml) orange juice in each of them; stir well.
Top with approx 3 oz (90 ml) prosecco; give a mild stir.
Garnish with fruit slice and serve.