Rose Cocktail Recipe
It is a tempting mixed drink made up with gin, dry vermouth and kirsch. All rose cocktails generally have a brandy base and this cocktail recipe uses kirsch, a premium German fruit brandy made with cherry. It adds a subtle cherry flavor and mild bittersweet aftertaste of almond.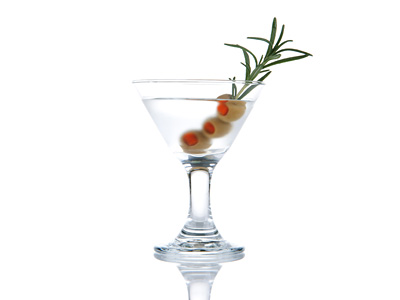 Preparation Time:
3 minutes
Ingredients:
75 ml (2½ oz) Gin
30 ml (1 oz) Dry Vermouth
30 ml (1 oz) Kirsch (Kirschwasser)
3 Cocktail Olives
1 cup Crushed Ice
Directions:
Fill up cocktail shaker with crushed ice until half.
Add gin, dry vermouth and kirsch in cocktail shaker and shake gently.
Take chilled martini glass. Strain and pour mixed drink in it.
Garnish with skewered olives and serve.
Tips and Variations:
Kirsch or Kirschwasser is a German cherry brandy. If it is not available, then you can use any other cherry brandy. However there would be one difference, Kirsch is bittersweet where as all other cherry brandies are sweet.
As per IBA (International Bartender's Association), rose cocktail is 9 parts dry vermouth, 3 parts kirsch and 2 parts cherry brandy. You can try this recipe if you like your drink to be bit strong on alcohol.
Make sure that all ingredients are absolutely chilled before preparation.
Serving Ideas:
It is not a widely know cocktail, however this makes up for a exotic and unique cocktail experience for your friends and guests for parties thrown by you. This rose drink can be served as before dinner drink.