Perfect Manhattan Cocktail Recipe
It is a finely balanced dry and sweet variation of classic Manhattan cocktail. The right balance of dry and sweet taste is achieved by mixing half part dry vermouth and half part sweet vermouth with two parts of Rye whiskey.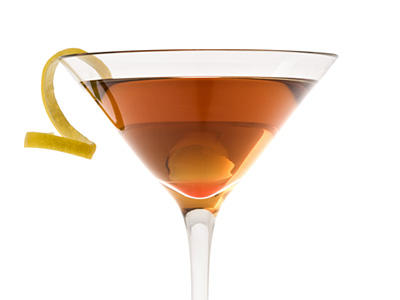 Preparation Time:
3 minutes
Ingredients:
60 ml (2 oz) Rye Whiskey
15 ml (1/2 oz) Dry Vermouth
15 ml (1/2 oz) Sweet Vermouth
2 dashes (8 drops) Angostura bitters
1 Lime Peel
Ice Cubes
Directions:
Fill up cocktail shaker with ice cubes until 2/3 capacity.
Pour all ingredients over it and shake well.
Strain and pour prepared drink in chilled martini glass.
Twist lime peel over martini and release its essence over drink, drop it in the glass as garnish and serve.
Tips and Variations:
Use maraschino cherry to garnish this traditional cocktail.
Serving Ideas:
Enjoy this powerful cocktail at home for relaxed evenings or to celebrate the weekend or festival.