Caipirinha Cocktail Recipe
This national drink of Brazil is prepared with its very own and widely popular alcohol, Cachaça. Even though this cocktail is very simple and easy to make without any fancy ingredients, it packs quite a powerful punch on flavor and kick. But wait, don't take our word for granted, try this best caipirinha recipe today and discover yourself how irresistible it is.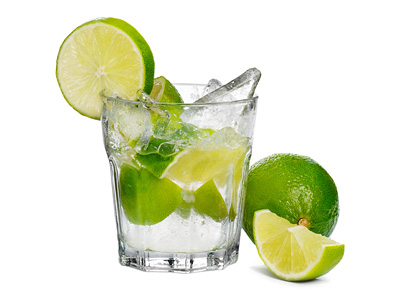 Preparation Time:
2 minutes.
Ingredients:
2 oz (60 ml) Cachaça
1/2 oz (15 ml) Sugar Syrup OR 1 teaspoon Bar Sugar
3 Green Lime Wedges
1 Lime Wheel
Ice Cubes or Crushed Ice
Directions:
Muddle 3 lime wedges to extract its juices and oils.
Add ice in the glass and pour sugar syrup or bar sugar and Cachaça. Give a nice stir and mix well.
Garnish with lime wheel and serve with a small straw.
Tips and Variations:
The original and classic Brazilian caipirinha drink uses ice cubes (not crushed ice) and green lemons native of Brazil. However, the current evolved recipe uses crushed ice and green lime where green Brazilian lemons are not available.
Many people differ on use of syrup or sugar and within it argue for white or brown, crystal or ground. However, in our opinion, none of them change the flavor of drink as much and its better to go for what is easiest and readily available for you.