Bijou Cocktail Recipe
Chartreuse is one of the very few alcohols that keep ageing in bottle and this cocktail is for real connoisseurs of spirits who wants to experience the jewel like luxury of diamond, ruby and emerald. The aromatic botanicals of gin, chartreuse and sweet vermouth gives it one of the most complex flavor profile.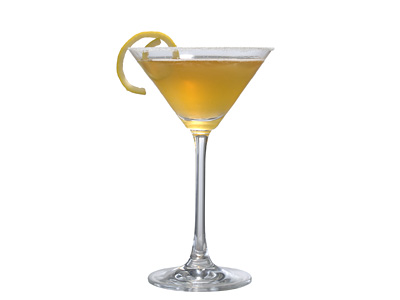 Preparation Time:
2 minutes.
Glassware:
Cocktail Glass
Ingredients:
2 oz (60 ml) Gin
1 oz (30 ml) Green Chartreuse
1 oz (30 ml) Sweet Vermouth
1 dash Angostura Orange Bitters
1 pc Lemon Peel
Ice Cubes
Directions:
Take few ice cubes in mixing glass and pour all ingredients except lemon peel in it. Gently stir for few seconds and strain mixed drink in to martini glass.
Drop Lemon peel in the drink or rest it on the rim and serve.