White Russian Cocktail Recipe
It is a coffee liqueur based delicious dessert mixed drink made with vodka and cream. There are many variations of this cocktail like Blind Russian cocktail, White Mexican, White Canadian Cocktail, etc. This recipe is for making original white russian.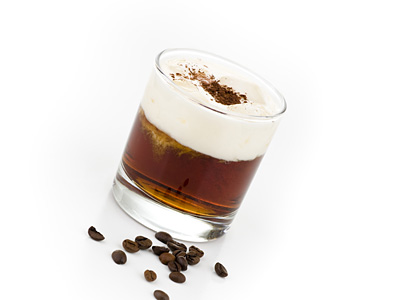 Preparation Time:
3 minutes
Ingredients:
60 ml (2 oz) Vodka
40 ml (1 1/3 oz) Coffee Liqueur like Kahlua
30 ml (1 oz) Light Cream
Ice Cubes
Directions:
Take lowball glass and put ice cubes in it.
Add coffee liqueur and vodka over ice.
Add light cream over it, garnish with ground coffee and serve.
Tips and Variations:
Use Tia Maria coffee liqueur if Kahlua is not available.
You can use Half and Half (half cream and half milk) instead of light cream.
If you want even taste from beginning till end of cocktail, mix vodka, coffee liqueur and cream in cocktail shaker and pour it over ice. This is also known as Dirty Bird Cocktail.
Make blind russian cocktail by using Baileys Irish Cream Liqueur instead of light cream.
Make white canadian cocktail by using goat's milk instead of cream.
Taste:
Creamy and aromatic coffee liqueur with vodka.
Serving Ideas:
It can be served as a dessert or after dinner drink.