Espresso Martini Recipe
Espresso Martini is one of many types of coffee cocktail recipes wherein cold espresso gives you a dose of caffeine along with a kick of vodka. Learn how to make incredible espresso vodka martini with this easy recipe.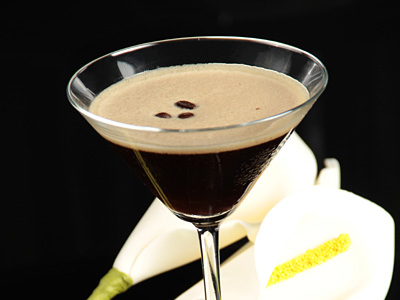 Preparation Time:
3 minutes
Ingredients:
45 ml (1 1/2 oz) Vodka
30 ml (1 oz) Cold Espresso
15 ml (1/2 oz) Coffee Liqueur
15 ml (1/2 oz) Crème de Cacao or Chocolate Liqueur
3 Coffee Beans (for granishing)
Ice Cubes
Directions:
Add ice cubes in cocktail shaker until its half full.
Add all liquid ingredients in cocktail shaker. Shake until frosted from outside.
Strain and pour espresso cocktail into chilled martini glass.
Garnish with coffee beans and serve.
Tips and Variations:
If you do not have cold espresso, then use milk crème in the same quantity and use coffee vodka instead of plain vodka.
Kahlua is a great choice for coffee liqueur as it is denser, sweeter, contains corn syrup and vanilla beans which gives great texture to cocktail.
Add 30 ml (1 oz) of milk or milk cream in above mentioned martini recipe to serve it as dessert.
Serving Ideas:
This one of its kind martini is a perfect for before or after dinner drink. It is ideal cocktail for happy hours, or anytime you desire a great coffee flavored drink.