Mango Margarita Recipe
Mexico, the home of the tequila and one of the top five mango producing countries, is also a Margarita capital of the world. And because if this, it's all but natural to find all of them come together to make one of the fruitiest cocktail ever. There are two ways to enjoy this magnificent mixed drink, fresh and frozen, and this recipe explains both. Let's get the balls rolling!!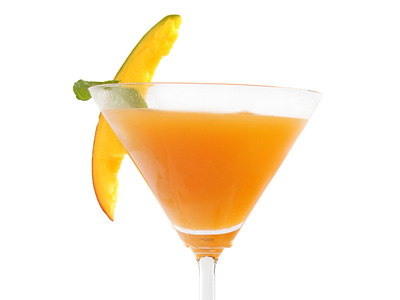 Preparation Time:
2 minutes
Glassware:
Cocktail or Coupette
Ingredients:
1½ oz (45 ml) Reposado Tequila
¾ oz (22 ml) Cointreau
¾ oz (23 ml) Fresh Mango Puree
¾ oz (23 ml) Fresh Lime Juice
1 Mango Slice
Ice Cubes
Directions:
For Fresh Mango Margarita:
Take all ingredients except mango slice in the mixing glass and fill it with ice until 3/4th full.
Shake and strain into cocktail glass and rest the mango slice on the rim of glass as garnish.
For Frozen Mango Margarita:
Crush 6-7 ice cubes into small pieces and blend all ingredients except mango slice with it in blender until slushy.
Transfer into Coupette glass and make a heap of slush, garnish with a slice of mango and serve with a straw.