Strawberry Margarita Recipe
If you like cool and refreshingly fruity cocktails then you must try this Mexican cocktail to beat the heat of summer. Strawberry – one of the world's most favorite fruit, combines very well with tequila, making it one of the best margarita ever. Whether you like it to be frozen or simple, straight or on the rocks, this recipe has got it all!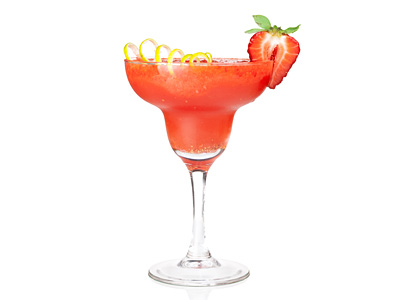 Preparation Time:
3 minutes.
Glassware:
Coupette Glass
Ingredients:
6 Fresh Strawberries (Stem removed)
2 oz (60 ml) Tequila
1 oz (30 ml) Freshly Squeezed Lime Juice
2/3 oz (20 ml) Simple Syrup
Ice Cubes
Directions:
For Frozen Strawberry Margarita:
Crush 5-6 ice cubes (approx 5-6 oz) in blender or mixer for 15-20 seconds.
Add all remaining ingredients and blend again until slushy.
Transfer it to serving glass and garnish with strawberry slice and lime twist.
For Classic Strawberry Margarita:
Muddle strawberries in the cocktail shaker, pour tequila, lime juice and sugar syrup in it and fill it with ice cubes until 2/3rd capacity.
Shake thoroughly and fine strain into serving glass. (Tip: You can also enjoy it on the rocks in old-fashioned glass)
Garnish with strawberry and serve with straw.