Watermelon Margarita Recipe
If you haven't tried this frozen watermelon margarita then you haven't enjoyed the summer yet! Apart from the obvious fresh watermelon and lime cordial, this recipe also uses orange liqueur, which provide subtle citrus flavor, making it more palatable and fun to drink. Cool, refreshing and simply the best.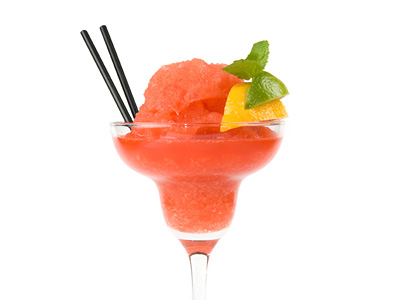 Preparation Time:
2 minutes
Glassware:
Margarita glass
Ingredients:
1 cup Cubed Watermelon (seeded)
2 oz (60 ml) Gold Tequila
1 oz (30 ml) Lime Cordial
½ oz (15 ml) Orange Liqueur
1 Lime Wedge
1 Orange Wedge
1 cup Crushed Ice
Directions:
Puree watermelon cubes in a blender.
Add 1 cup crushed ice, tequila, schnapps and lime cordial in blender jar and blend for 30-35 seconds or until slushy.
Heap the slush in a serving glass and garnish with a wedge of lime and orange. Enjoy the drink with a straw.