Pomegranate Margarita Recipe
Margarita is such a versatile drink that you can make it with any of your favorite fruit by either using its fresh juice, puree or its liqueur. However, Pomegranate margarita is bit different from this fact as it is prepared by using both pomegranate's juice and syrup. Both pom juice and tequila combine like marriage made in heaven.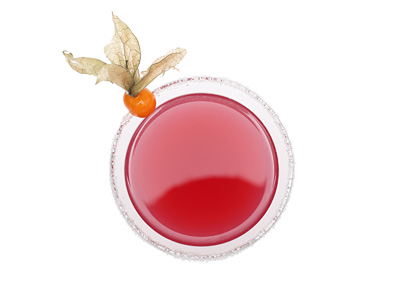 Preparation Time:
2 minutes
Glassware:
Cocktail glass
Ingredients:
2 oz (60 ml) Reposado Tequila
1 oz (30 ml) Pomegranate Juice
½ oz (15 ml) Lime Juice
1/3 oz (10 ml) Grenadine Syrup
1 Cape Gooseberry
Coarsely Ground Sea Salt
Ice Cubes
Directions:
Chill the serving glass by either putting it in freezer or stuffing in the ice. Run a lime wedge around its rim and roll the rim in sea salt.
Shake tequila, both juices and grenadine in ice filled cocktail shaker until its frosted from outside.
Strain the drink into serving glass and garnish it with a cape gooseberry.