Raspberry Margarita Recipe
There are three different ways to make and enjoy raspberry margarita. 1) As icy slush 2) Straight-up and 3) On the rocks. This recipe explains them all.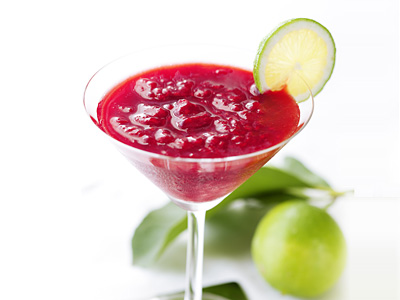 Preparation Time:
2 minutes
Glassware:
Large Martini glass
Ingredients:
7-8 Fresh or Frozen Raspberries
2 oz (60 ml) Tequila (Gold or Silver)
1 oz (30 ml) Triple Sec
1 oz (30 ml) Lime Juice
1/2 oz (15 ml) Sugar Syrup
1 Lime Wheel OR 2 Raspberries
Crushed Ice
Directions:
Take raspberries in blender jar and puree them.
Add tequila, triple sec, lime juice, sugar syrup and ¾ cup crushed ice and blend until icy pulp.
Transfer slush to a serving glass and place a lime wheel on the rim. If you are using raspberries for garnish then skewer them on cocktail pick and place it on the rim.
Alternate Directions:
Muddle all raspberries in the mixing glass, add tequila, triple sec lime juice and simple syrup. Fill up the remaining glass with ice cubes and shake until it is frosted from outside.
Strain and pour into serving glass and garnish. If you like it on the rocks then add few ice cubes in glass before pouring the drink in it.