Ginger Vodka Martini Recipe
It is an outstanding combination of two great flavors, lemon and ginger with gin. This fabulous cocktail has very inviting looks as well which can enlighten the party environment. Learn how to make refreshing ginger vodka martini for parties with this easy cocktail recipe.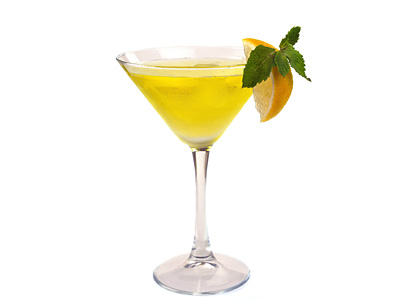 Preparation Time:
3 minutes
Ingredients:
60 ml (2 oz) Vodka
1 small piece of Fresh Ginger
30 ml (1 oz) Limoncello
1 Lemon Wedge
1 Mint Sprig
1 cup Crushed Ice
Directions:
Cut fresh ginger into small pieces and put it in cocktail shaker. Add vodka in it.
Muddle ginger in a cocktail shaker.
Add crushed ice and pour limoncello over it. Shalke until frosted from outside.
Strain and pour chilled cocktail drink into martini glass.
Garnish with lemon wedge and mint sprig and serve.
Tips and Variations:
Muddle mint leaves along with ginger to give it an extra spicy and hot flavor.