Ginger Pear Martini Recipe
Ginger and pear, when combined together to make a cocktail, makes one of the best sensual cocktail which not only has kick but also has sweet and spicy temper. Learn how to make delicious ginger pear martini for winter parties and don't be surprised if everyone asks for its recipe.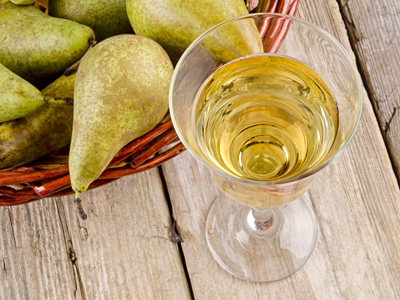 Preparation Time:
3 minutes
Ingredients:
60 ml (2 oz) Pear Vodka
1 small piece of Fresh Ginger
15 ml (1/2 oz) Lemon Juice
30 ml (1 oz) Simple Syrup
1 cup Crushed Ice
Directions:
Cut fresh ginger into small pieces and put it in cocktail shaker. Add pear flavored vodka and muddle ginger to release its essence.
Add crushed ice, pour lemon juice and simple syrup over it.
Shake vigorously to mix all ingredients well. (Approx 10 to 12 shakes should be sufficient)
Strain and pour chilled drink into martini glass.
Garnish with lemon twist or pear slice and serve.
Tips and Variations:
For real pear flavor, use pear syrup from a can of pear instead of simple syrup. In addition to that, muddle couple of pear slices along with ginger.
This cocktail has mild inclination towards sweet taste. If you like perfect balance between sweet and sour, then increase the quantity of lemon juice to 30 ml (1 oz)
Serving Ideas:
Serve it in parties as a pre dinner drink.