Mojito Martini Recipe
It is a transformation of classic mojito cocktail into a martini style drink. This mojito martini recipe uses vodka in addition to all ingredients used in preparation of classic mojito which makes it more potent alcoholic drink while white rum, mint leaves, lemon juice and sugar syrup helps retain its refreshing taste and feel.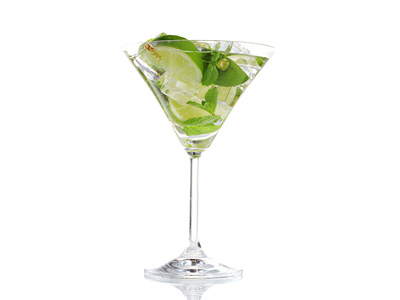 Preparation Time:
3 minutes
Ingredients:
30 ml (1 oz) Citrus Vodka
60 ml (2 oz) White Rum
15 ml (1/2 oz) Lemon Juice
15 ml (1/2 oz) Sugar Syrup
5 + 1 Mint Sprigs
1 cup Crushed Ice
Directions:
Add lemon juice, sugar syrup and 5 mint sprigs in martini shaker. Muddle mint sprigs to release its essence oils.
Fill up 2/3 of cocktail shaker with crushed ice and pour white rum and vodka over it. Shake well until completely chilled.
Strain and pour mixed drink into chilled martini glass.
Drop mint leaves, lime wedge and few pieces of ice, gently stir and serve
Tips and Variations:
Chill martini glass before preparing this cocktail. You can chill it by either putting it in a freezer for 15-20 minutes or pouring chilled water and ice cubes in it and letting sit idle for 4-5 minutes.
Each mint sprig should have around 4 to 5 leaves.
If it tastes too tart, then add some more sugar.
Add a splash of Grand Marnier to make grand mojito martini
Use 30 ml (1 oz) 100% agave tequila instead of vodka for different taste.
Taste:
It tastes refreshing with mint and lemon flavors.
Serving Ideas:
It is a summer drink. Serve it in afternoon or in evening to beat the heat and to get a refreshing kick.