Cucumber Martini Recipe
Cucumber is not only good for preparing salads but it can also make tempting and cool cocktails. Cucumber Martini is one such cocktail, which makes summer seem cooler and more enjoyable. Learn how to make cucumber infused vodka and make cool martinis from it in this recipe. Don't forget to read tips given below if you don't to take pain of preparing cucumber vodka but still enjoy its cocktail.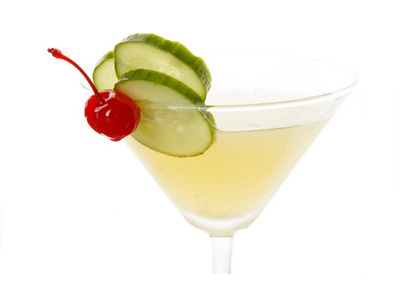 Preparation Time:
3 minutes
Ingredients:
60 ml (2 oz) Cucumber Vodka
4-5 leaves Fresh Mint Leaves
15 ml (1/2 oz) Lemon Juice
15 ml (1/2 oz) Simple Syrup
3 Cucumber Slices
1 Maraschino Cherry
Crushed Ice
Directions:
Take fresh mint leaves and lemon juice in cocktail shaker.
Muddle fresh mint leaves.
Add crushed ice in shaker; pour vodka and simple syrup over ice and shake well so that flavor of mint mixes well with other ingredients.
Strain and pour mixed drink into chilled martini glass.
Garnish with thin slices of cucumber and maraschino cherry as shown in the picture.
How to make Cucumber Vodka?
Peel, seed and chop one large cucumber.
Take a large container having airtight lid. Add cut cucumber pieces in it.
Pour one 750 ml bottle of plain vodka over it. Seal the lid and let it sit for 4-5 days. Give it a shake once or twice in a day
Strain and pour vodka back into its original bottle and use it as and when you like it to prepare cool martinis.
Use pickled cucumber pieces to make some other delicious recipe from it.
Tips and Variations:
If you do not want to prepare cucumber infused vodka, then take 3-4 slices of fresh cucumber in cocktail shaker along with mint leaves and muddle it. Make sure that you shake really well to allow its flavor to mend well with other ingredients.
Prepare even more cool and rejuvenating martini by muddling watermelon along with mint leaves and mixing 30 ml (1 oz) of watermelon juice.
Serving Ideas:
It is an absolute delight to drink this cocktail during summer garden parties.