Grape Martini Recipe
Grape Martini, an amazing combination of vodka and sparkling white grape juice, is an enticing drink for all kinds of parties. Surprise your guests and make environment alive by serving this martini made with finest Ciroc vodka.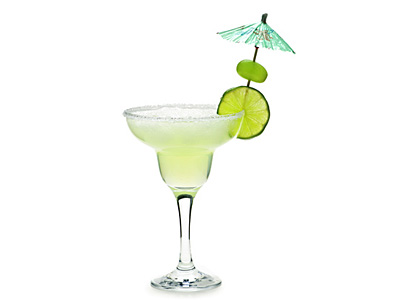 Preparation Time:
3 minutes
Ingredients:
30 ml (1 oz) Ciroc Vodka
90 ml (3 oz) White Grape Juice
1 tablespoon Bar Sugar
1 Lemon Wheel
1 White Grape
1 Cocktail Umbrella
1 cup Crushed Ice
Directions:
Rub lime wedge around glass' rim and dip it in bar sugar. Place garnished martini glass in freezer to chill.
Fill up cocktail shaker with crushed ice; add Ciroc vodka and sparkling white grape juice in it. Cap the cocktail shaker and shake well.
Take out glass from freezer; strain and pour mixed drink in it.
Skewer grape and lemon wheel in cocktail umbrella stem and rest it in glass as shown in photo above and serve.
Tips and Variations:
Increase the quantity of vodka to 60 ml (2 oz) for stronger kick.
Garnish it with a frozen grapes. Add 2-3 pieces of it into chilled grape vodka martini
Add a splash of 7Up or Red Bull for extra zing.
Taste:
Sweet and temptingly grappy.
Serving Ideas:
Martini prepared with white grape juice is always enjoyable in parties. Treat yourself and your friends with this great fruit flavored smooth mixed drink on warm summer evening.