Red Apple Martini Recipe
The stunning looks, delicious taste and amazing flavor of red apple martini makes it suitable to award "made for parties" tag. Follow this mixed drink recipe to make visually appealing, stunning red hued martini with vodka, apple juice and grenadine syrup.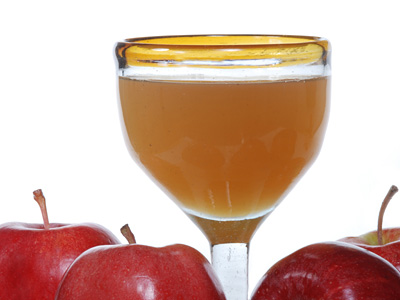 Preparation Time:
3 minutes
Glassware:
Cocktail glass
Ingredients:
30 ml (1 oz) Fris Apple Vodka
60 ml (2 oz) Apple Juice
15 ml (1/2 oz) Grenadine
Red Apple Slice
1 cup Crushed Ice
Directions:
Take vodka, apple juice and grenadine into cocktail shaker half filled with ice and shake well for 25-30 seconds.
Strain and pour chilled mixed drink into chilled martini glass.
Garnish with Washington red apple slice and serve.
Tips and Variations:
If apple vodka is not available, then use plain vodka, red apple schnapps and cranberry juice in equal parts (1 oz each).
Add splash of butterscotch schnapps for sweeter martini.
Do not replace Fris apple vodka with green apple vodka. It is the only Macintosh red apple flavored vodka available in the market.
Serving Ideas:
It not just tastes well but looks clear and stunning too. Serve it as before dinner drink for your parties or quieter relaxing evenings.