Peach Martini Recipe
This recipe of peach martini uses fresh peach nectar to make soothing fruit cocktail that helps relaxing senses and body. Learn to make perfect peachy cocktail with this easy drink recipe.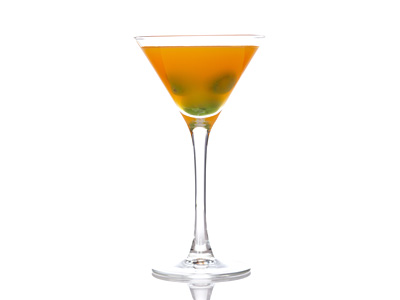 Preparation Time:
3 minutes
Ingredients:
60 ml (2 oz) Citrus Vodka
30 ml (1 oz) Peach Schnapps
30 ml (1 oz) Peach Nectar
10 ml (1/3 oz) Cranberry Juice (Optional)
Lime Peel
Crushed Ice
Directions:
Add crushed ice in cocktail shaker until half full.
Add first four ingredients in cocktail shaker and shake for 20-25 seconds.
Strain and pour chilled mixed drink into chilled martini glass.
Garnish with lime peel and serve.
Tips and Variations:
Cranberry juice is used for giving tempting color to martini. You can avoid it if you want to.
Add a splash of lime juice to balance out the sweet taste of peach schnapps and nectar.
If peach nectar is not available, then use triple sec in same measure.
Use peach flavored vodka and triple sec to make an alternative version of this martini.
Serving Ideas:
It is a best fruity martini that can be served in afternoon business meetings or relaxed evenings at home.