Pisco Sour Cocktail Recipe
This South American cocktail is kind of a national drink or Peru and Chile where its main ingredient Pisco – a grape based brandy, is produced using specific type of grapes. This is a traditional Peruvian pisco sour recipe wherein Peruvian pisco, simple syrup and bitters are used. However, if you want to experience its Chilean version then replace them with Chilean pisco and 1-teaspoon bar sugar respectively and avoid bitters.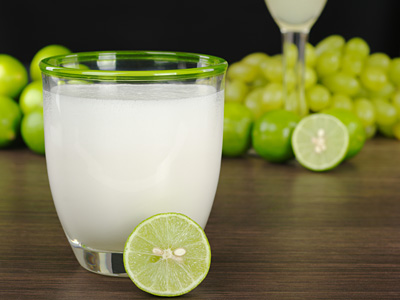 Preparation Time:
2 minutes.
Glassware:
Rocks Glass or Goblet
Ingredients:
2 oz (60 ml) Peruvian Pisco
1 oz (30 ml) Freshly Squeezed Lime Juice
1 oz (30 ml) Simple Syrup
½ Egg White
Angostura Bitters
1 scoop Crushed Ice
Directions:
Take all ingredients except angostura bitters into blender jar filled with 1 scoop crushed ice.
Blend until slushy and transfer to serving glass.
Garnish with couple of drops of angostura bitters and serve with straw.