Vanilla Martini Recipe
Vanilla is one of the most popular natural flavoring agents in the world and many recipes would not taste as good without it. Vanilla martini is fabulous vanilla flavored cocktail prepared with vanilla liqueur and plain vodka. This cocktail drink recipe also uses a splash of lemon to have a delicate balance of sweet and sour taste with nice citrus aroma.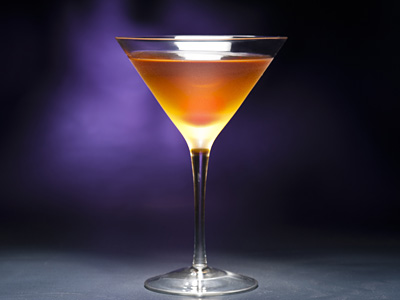 Preparation Time:
3 minutes
Glassware:
Cocktail glass
Ingredients:
30 ml (1 oz) Vodka
30 ml (1 oz) Vanilla Liqueur
A splash of Limejuice
Lemon Ring (for garnishing)
Ice Cubes
Directions:
Add ice cubes into cocktail shaker until 2/3 full.
Add vodka, vanilla liqueur and limejuice in it. Shake well until icy chilled.
Strain and pour chilled drink into chilled martini glass.
Cut lemon ring half way through the center and garnish vanilla vodka martini with it, serve.
Tips and Variations:
Add 30 ml (1 oz) Chambord to make a French vanilla martini.
Add a dash of orange juice and pineapple juice to make it even fruitier.
Serving Ideas:
It is suitable for every occasion. Serve it straight up or on the rocks for variation.