Watermelon Vodka Martini Recipe
This is a great summer cooler with a kick of an alcohol. Discover how to make cool and refreshing watermelon juice and vodka cocktail for summer with this cocktail recipe.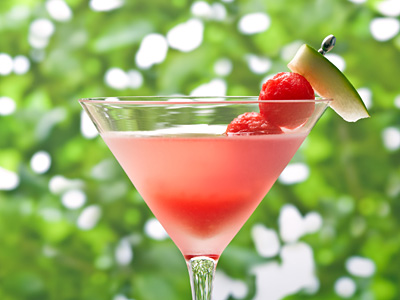 Preparation Time:
3 minutes
Ingredients:
60 ml (2 oz) Vodka
30 ml (1 oz) Fresh Watermelon Juice
10 ml (1/3 oz) Lime Juice
20 ml (2/3 oz) Watermelon Liqueur
3 Watermelon Balls (for garnishing)
Ice Cubes
Directions:
Fill 2/3 of cocktail shaker with ice cubes.
Take all ingredients (except garnish) in a cocktail mixer and shake well until it is frosted with water droplets from outside.
Strain and pour prepared watermelon vodka martini mix into chilled martini glass.
Skewer watermelon balls on cocktail stick and rest it on the rim or simply float them in the drink and serve.
Tips and Variations:
Watermelon liqueur is used to add some sweetness to this fresh fruit cocktail, however, you can also use simple syrup as its replacement.
Add a dash of cointreau or any other triple sec for citrus flavor.
Watermelon juice can be prepared by blending 3-4 large pieces of seedless watermelon.
Serving Ideas:
Serve this fresh and fruity watermelon vodka cocktail for relaxed and cool evenings during summer and spring.