Sake Bomb Recipe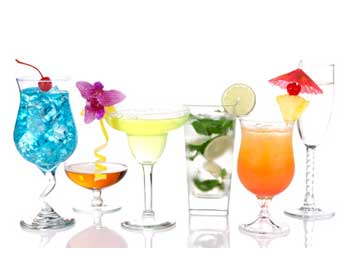 It is a great fun drink typically drunk in group to celebrate whatever the occasion may be. This coordinated beer drinking activity involves counting and building the excitement and then boom!!! All thump the table at the same time, let sake fall in beer with thud and gulp beer in single breadth….. It's such a fun way to drink sake bomb. Multiply all ingredients mentioned below with number of people you are going to have in a group.
Ingredients:
1/3 glass Light Beer
30 ml (1 oz) Warm Sake
2 Chopsticks
How to Drink Sake Bomb?
Set up a round table. Arrange beer glasses and add beer up to 1/3 of its capacity
Arrange two parallel chopsticks on top of beer glass having approx one-inch distance between them.
Carefully balance warm sake filled shot glass over it.
When everyone is ready, count from three, two, and one. On counting of "One", everyone should slams the table with fist making shot glass fall in beer and drink immediately in a single breath.
Tips and Variations:
Drinking sake bomb in the way described above is a messy activity. If you want to have a cleaner way to enjoy it, then instead of setting up shot glass with sake on chopstick, everyone should hold shot glass in hand, on count of "One" pour it in beer and drink immediately.
It is an inclusive social drinking making drinking fun. Make sure that environment where you are trying to do this is suitable for this.
Use light color, yellow looking clear beer as its flavor mixes well with sake.