Asian Pear Martini Recipe
Asian Pear Martini is a cocktail of pear juice, sake and pear liqueur. This martini gets its name from sake, a Japanese undistilled drink and pear infused liqueur.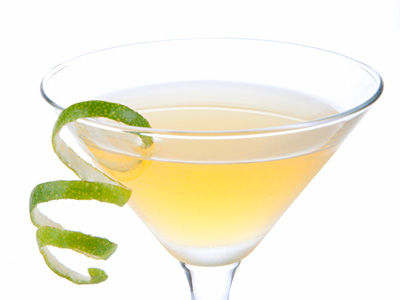 Preparation Time:
5 minutes
Glassware:
Cocktail Glass
Ingredients:
60 ml (2 oz) Japanese Sake
30 ml (1 oz) Pear Nectar or Puree
20 ml (2/3 oz) Pear Liqueur
10 ml (1/3 oz) Lime Juice
1 slice of Pear or lime twist
Ice Cubes
Directions:
Add all ingredients (except slice of pear) in a cocktail mixer filled with ice cubes, shake vigorously.
Strain and pour prepared martini mix into serving glass.
Garnish the drink by either a slice of pear or lime twist and serve.
Tips and Variations:
Add 15 ml (1/2 oz) ginger liqueur for twisty taste.