Creamsicle Martini Recipe
Revive your childhood memories and get lost in those wonderful times again by relishing delightful Creamsicle Martini prepared with this recipe. The combination of orange flavored vodka, triple sec, orange juice, half and Half (half cream half milk) and natural vanilla extract is simply blissful.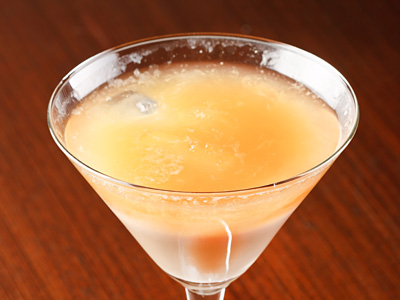 Preparation Time:
5 minutes
Ingredients:
45 ml (1½ oz) Orange Vodka
30 ml (1 oz) Triple Sec
30 ml (1 oz) Orange Juice
30 ml (1 oz) Half and Half
1/2 teaspoon Vanilla Extract
1 Orange Slice
Ice Cubes
Directions:
Half fill cocktail shaker with ice cubes. Crushed ice is preferable if available.
Take all creamsicle martini ingredients except orange slice into cocktail shaker. Shake vigorously.
Take chilled martini glass; strain and pour mixed drink in it.
Cut orange slice half way through and slide it on the rim of glass and serve.
Tips and Variations:
Use vanilla flavored vodka if its extract is not available.
Use fat free heavy cream instead of half and half for low-calorie martini.
Add a splash of lime juice for balanced sweet and sour taste.