Pumpkin Martini Recipe
Pumpkins are available only during fall and Pumpkin Martini is one of the best ways to enjoy this seasonal fruit during Halloween, Thanks Giving and Christmas celebrations. It has been a favored cocktail for Halloween parties for many years now. Learn how to make its smashing martini with vodka and pumpkin liqueur by following this easy recipe.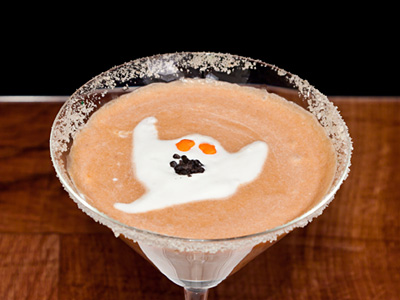 Preparation Time:
5 minutes
Ingredients:
60 ml (2 oz) Vanilla Vodka
30 ml (1 oz) Pumpkin Liqueur
30 ml (1 oz) Half and Half
Bar Sugar
1 cup Crushed Ice
Directions:
First garnish the glass and keep it read to receive the cocktail. Dip rim of chilled martini glass in pumpkin liqueur and then in bar sugar.
Add vanilla vodka and pumpkin liqueur to ice filled cocktail shaker.
Shake it until completely chilled.
Add half and half in cocktail shaker and shake again.
Strain and pour mixed drink into garnished martini glass.
Garnish with a cream and serve.
Tips and Variations:
Reduce the vodka quantity to 30 ml (1 oz) for less potent cocktail.
Mix bar sugar and ground cinnamon and use it for frosting the rim of martini glass.
Top it up with scoop of vanilla ice cream for surprisingly creamy alcoholic dessert.
Experiment with this Halloween cocktail! Garnish it with roasted pumpkin seeds for a different look and taste.
Serving Ideas:
It is a perfect Halloween party cocktail. You can serve it as a dessert too.