Pomegranate Vodka Martini Recipe
Pomegranate is a trendy flavor in current cocktail world and pomegranate vodka martini is one of the best ways to be in sync with this latest cocktail trend and enjoy the true taste of pomegranate. To make things simpler, this trendy fruity cocktail recipe uses pomegranate-flavored vodka. However, you can also use plain vodka and grenadine syrup to make this yummy cocktail.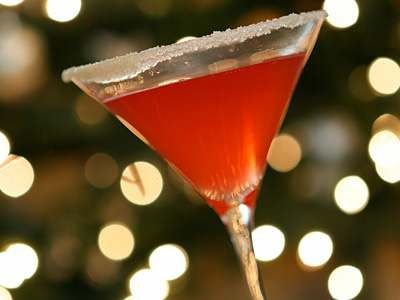 Preparation Time:
3 minutes
Ingredients:
60 ml (2 oz) Van Gogh Pomegranate Vodka
30 ml (1 oz) Fresh Pomegranate Juice
30 ml (1 oz) Cointreau
10 ml (1/3 oz) Lime Juice
Bar Sugar (for rimming)
Ice Cubes
Directions:
Dip the rim of glass in vodka and then in bar sugar spread on a flat plate.
Take all ingredients (except orange wedge) in cocktail shaker 2/3 filled with fresh ice.
Shake cocktail shaker thoroughly for a minute or so. Strain and pour prepared pomegranate vodka cocktail drink into sugar rimmed martini glass and serve.