Dry Martini Recipe
As society and liqueur companies have evolved and introduced different verities of vodka, so do martinis. However, every cocktail lover vouches for how heavenly classic dry martini tastes. This recipe uses six-part gin, one part dry vermouth and whole green olives as garnish. If you have just started on becoming a cocktail lover, then this is a "must try" martini and chances are that you will have it again and again once you taste it.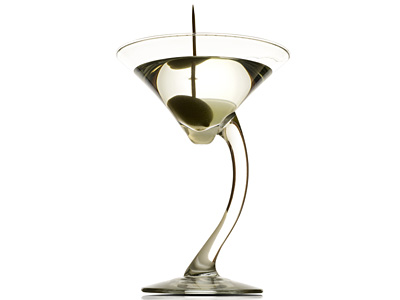 Preparation Time:
3 minutes
Ingredients:
60 ml (2 oz) Gin
10 ml (1/3 oz) Dry Vermouth
3 Cocktail Olives
Ice Cubes
Directions:
Fill cocktail mixing glass half way through with ice cubes.
Add all ingredients (except whole green olives) in a cocktail mixing glass and shake vigorously.
Strain and pour chilled mixed drink into chilled martini glass.
Garnish with skewered olives and serve.