Peppermint Martini Recipe
Peppermint Martini is must have cocktail for winter festival celebrations. Its garnish of candy cane brings alive the celebratory mood and entices the environment. Learn how to make this traditional Christmas cocktail with this easy recipe.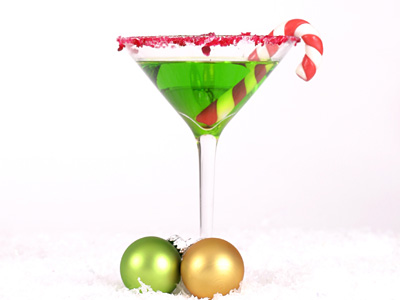 Preparation Time:
3 minutes
Glassware:
Cocktail glass
Ingredients:
60 ml (2 oz) Vodka
15 ml (1/2 oz) Green Crème de Menthe
15 ml (1/2 oz) Peppermint Schnapps
2 Candy Canes
1 cup Ice Cubes
Directions:
Crush one candy cane and frost glass rim with it.
Fill cocktail shaker with ice cubes till its 2/3 capacity.
Add vodka, white crème de menthe and peppermint schnapps in it and shake until its bone chilling cold.
Strain and pour prepared peppermint drink into chilled cocktail glass.
Garnish with remaining candy cane and serve.
Tips and Variations:
Crush candy cane and make a powder of it. Frost the rim of glass with it by dipping the moist rim of glass in it.
Use vanilla flavored vodka to make vanilla peppermint martini and garnish with fresh mint leaves.
Add a splash of lime juice for citrus flavor.
Taste:
Refreshingly minty and sweet
Serving Ideas:
It is a most sought after cocktail during Christmas and New Year celebrations as it is suitable for every occasion worthy of celebration. This chilled peppermint cocktail helps warm up body from inside and is preferred during cold winter months.