Apricot Sour Recipe
This is not the usual apricot brandy and sweet & sour quick fix. It's a much more elegant and beautiful drink prepared by mixing apricot puree, apple juice and lime juice with bourbon and brandy. It's a fruity delight in every sip, perfectly balanced and simply heaven!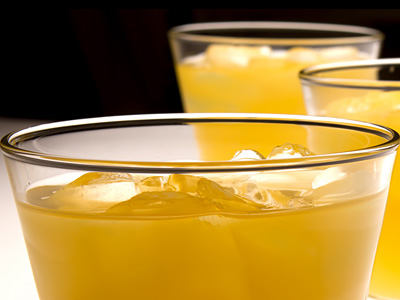 Preparation Time:
2 minutes
Ingredients:
1½ oz (45 ml) Apricot Puree or Nectar
1 oz (30 ml) Bourbon Whisky
1 oz (30 ml) Apricot Brandy Liqueur
1 oz (30 ml) Fresh Apple Juice
½ oz (15 ml) Lime Juice
Ice Cubes
Directions:
Take all ingredients into ice filled cocktail shaker and shake thoroughly.
Strain the chilled drink into ice filled serving glass. Optionally garnish with lime twist and serve.
Tips and Variations:
Apricots have very short season from late spring to summer. If you don't have fresh puree or nectar then use its juice. Alternatively, dissolve two tablespoons of apricot jam in whiskey and then shake all ingredients with ice.