Smoky Martini Recipe
It is a skillfully prepared variation of dry martini where dry vermouth is replaced by scotch and has smooth and oily initial taste. For best smoky martini experience, use smoky or peated scotch (like Isle Mist or single malts such as Laphroaig, Lagavulin, etc).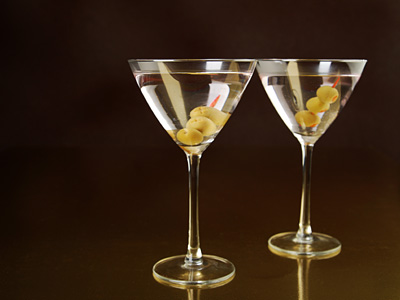 Preparation Time:
3 minutes
Ingredients:
60 ml (2 oz) Gin
10 ml (1/3 oz) Scotch Whiskey
Lemon Peel
Cocktail Olives
Ice Cubes
Directions:
Add ice in cocktail shaker until 2/3 full.
Add gin and scotch whiskey over ice in cocktail shaker and shake thoroughly.
Take chilled martini glass, strain and pour chilled cocktail in it.
Twist lemon peel over the martini to give it citrus essence and drop olives in the drink.
Tips and Variations:
This cocktail recipe uses higher ratio for gin, use premium quality gin for best results.
Use aged single malt scotch whiskey for best smoky taste. Higher the age, better it tastes.
Taste:
It has an extraordinary dry and smoky taste. The first sip is very smooth and oily while finish has a lot of smokey smell.
Serving Ideas:
Gin martini with a nuance of whisky will satisfy your taste buds and fill your nostrils with heavenly smoky and campfire aroma. Serve this cocktail in casual and formal evening parties or business meetings.