Blue Hawaiian Cocktail Recipe
It reminds of warm and cool breeze on the Hawaiian beach. This tropical cocktail drink has alluring and inviting blue color and tastes irresistibly exotic. Follow this mixed drink recipe of tropical Blue Hawaiian cocktail and make perfect drink to welcome summer.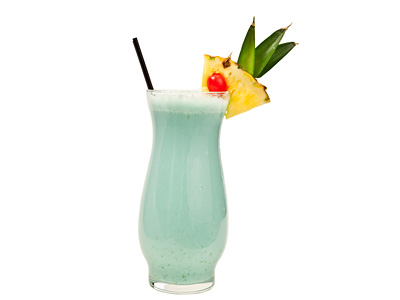 Preparation Time:
2 minutes
Glassware:
Hurricane Glass
Ingredients:
30 ml (1 oz ) Light Rum
60 ml (2 oz) Pineapple Juice
30 ml (1 oz) Blue Curaçao
30 ml (1 oz) Crème de Coconut
1 Pineapple Wedge
1 Maraschino Cherry
1 cup Cracked Ice
Directions:
Take rum, pineapple juice, blue curacao, crème de coconut and cracked ice in an electric mixer jar.
Blend it until slushy.
Pour prepared icy cocktail into highball glass.
Garnish with a slice of juicy pineapple and serve.
Tips and Variations:
If you do not like blended cocktail, then shake all ingredients in mixing glass and pour over highball glass filled with ice.
Taste:
This tropical looking cocktail has tropical fruity taste with mild touch of rum!
Serving Ideas:
It is a great way to start enjoying warm and sunny summer. Have this tropical drink in parties and get-together before dinner.