Apple Pie Martini Recipe
The beautiful fall season is right here at the doorstep and how about enjoying an apple pie martini which almost tastes like a real pie? The apple and cranberry juice gives it a seasonal touch but its the cinnamon schnapps that does wonders to this cocktail giving it flavors similar to that of an apple pie.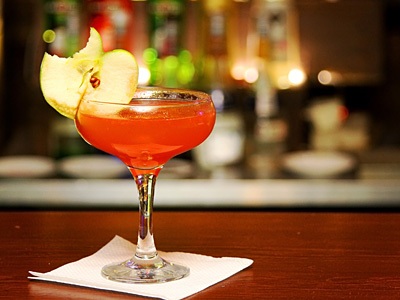 Preparation Time:
2 minutes
Glassware:
Cocktail glass
Ingredients:
1½ oz (45 ml) Vodka
2 oz (60 ml) Fresh Apple Juice
1 oz (30 ml) Cranberry Juice
½ oz (15 ml) Cinnamon Schnapps
1 Apple Slice (for garnishing)
Ice Cubes
Directions:
Take all ingredients in a mixing glass and fill it with ice cubes. Shake and mix for 20-25 seconds.
Strain and pour into chilled serving glass and garnish with apple slice.
Tips and Variations:
Replace apple juice with cider and see how irresistible it becomes.