Apple Martini – Appletini Recipe
Apple Martini or Appletini is a classic alcoholic drink made with vodka. It can be made using any one of the apple juice, apple liqueur, apple brandy and apple cider. This recipe uses vodka and sour apple schnapps.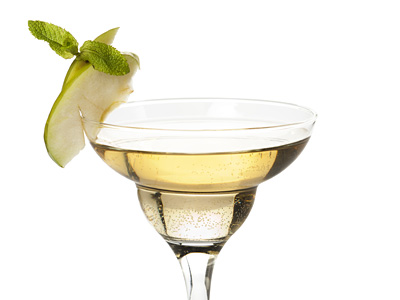 Preparation Time:
2 minutes
Glassware:
Cocktail Glass
Ingredients:
30 ml (1 oz) Vodka
10 ml (1/3 oz) Sour Apple Schnapps
10 ml (1/3 oz) Simple Sugar Syrup
A Splash of Lime Juice
1 Green Apple Slice
Ice Cubes
Directions:
Take vodka, sour apple schnapps, simple syrup, a squirt of lime juice and ice cubes in a cocktail shaker and shake it vigorously. (Do not use Ice cube if you like strong martini, instead use chilled ingredients.)
Strain and pour the prepared mix in chilled serving glass.
Garnish with a slice of green apple and serve.
Tips and Variations:
The tempting green color of apple martini depends on color of apple schnapps. Choose schnapps brand according to your choice of color and taste.
Do not use sugar syrup if you do not like your drink to be sweet.
Serving Ideas:
Appletini is a perfect drink for party and dessert.