Diamond Martini Recipe
It is a premium exclusive martini prepared with premium grain vodka and dry vermouth. In its truest sense, diamond martini also has a diamond sitting at the bottom of the glass to surprise and propose someone special. Whether you are proposing someone or not, you can still enjoy this wonderful blend of two spirits.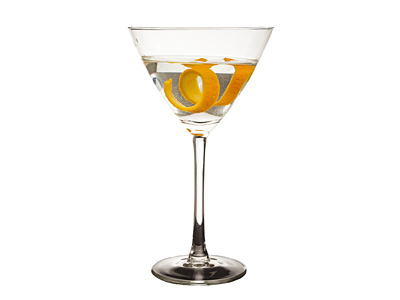 Preparation Time:
3 minutes
Ingredients:
60 ml (2 oz) Premium Vodka
15 ml (1/2 oz) Premium Dry Vermouth
1 Orange Twist
Ice Cubes
Directions:
Take chilled premium vodka and chilled premium dry vermouth in ice cubes filled cocktail shaker and shake thoroughly.
Strain and pour cocktail into chilled martini glass.
Drop orange twist in the drink as garnish and serve.
Tips and Variations:
Using fine grain premium vodka and premium dry vermouth is a key to exclusivity of this martini and make sure that both ingredients and serving glass are absolutely chilled.
Recipe mentioned above is for a shaken martini. If you like stirred martini, then do not add dry vermouth into shaker, instead pour it into serving glass and coat its surface by gently swirling dry vermouth 2-3 times. Discard excess vermouth; strain the vodka into serving glass and enjoy.
If you are proposing someone with a diamond at the bottom of the glass, make sure that it is not gulped down along with drink.
Serving Ideas:
If you are planning to propose or gift someone special, add a real diamond in the drink and surprise her over a romantic dinner.