Prickly Pear Margarita Recipe
The raspberry-watermelon like taste of prickly pear gives an amazing touch to the palatability of this margarita. Since this cactus fruit has tiny hair like spikes and requires much care to extract the fruit from its protective layer, this recipe directly uses its syrup which is readily available in super stores. However, if you really want to have all natural taste then just make a homemade prickly pear syrup from its fruit.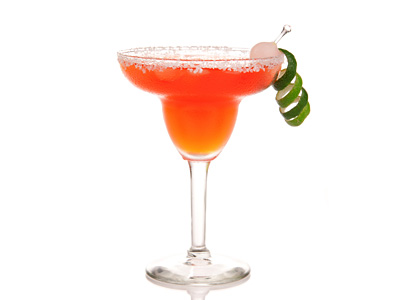 Preparation Time:
2 minutes
Glassware:
Coupette glass
Ingredients:
1 oz (30 ml) Prickly Pear Syrup
1½ oz (45 ml) Reposado Tequila
3/4 oz (23 ml) Triple Sec (Grand Marnier or Cointreau)
3/4 oz (23 ml) Lime Juice
1 Long Lime Twist (for garnishing)
Sea Salt and Bar Sugar Mix
1 cup (6 oz) crushed ice
Directions:
Wet the rim of chilled glass by running and lightly squeezing lime wedge around it. Rotate glass' rim in the sea salt and sugar mix spread on flat plate.
Add all ingredients in mixer jar followed by crushed ice. Blend until it turns into puree like slush.
Pour mixed drink into serving glass and garnish with curled lime twist.