Apricot Martini Recipe
It's a more fruity, more classy, more tempting and more delicious cosmo! This cosmopolitan inspired cocktail drink has hints of fresh apricot, passion fruit and cranberry. Simply amazing!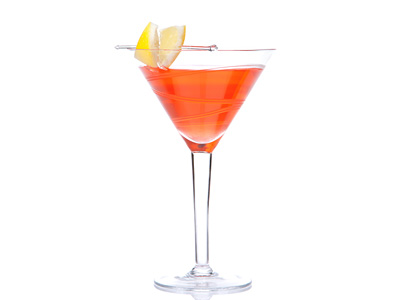 Preparation Time:
2 minutes
Glassware:
Cocktail glass
Ingredients:
2 oz (60 ml) Premium Vodka
1 oz (30 ml) Apricot Nectar
1 oz (30 ml) Cranberry Juice
¼ oz (7 ml) Passion Fruit Syrup
½ oz (15 ml) Lemon OR Lime Juice
2 dashes (8 drops) Angostura Bitters
1 Small Size Wide Lemon Peel (For Garnishing)
Ice Cubes
Directions:
Put serving glass either in freezer for 20 minutes or stuff it in ice chest for 10 minutes to chill.
Fill up mixing glass with fresh ice cubes until 2/3rd capacity. Pour all ingredients in it, place the cap and shake thoroughly. Strain into chilled serving glass
Skew lemon peel in the cocktail pick like a sail and place it on the rim of glass as garnish.