Cosmopolitan Cocktail Recipe
Cosmopolitan Cocktail was invented sometime during 1970's and since then. It is one of the most sought after alcoholic drinks in the world. It's sometimes referred as Cosmo Cocktail. This light and fruity concoction is great casual drink for parties.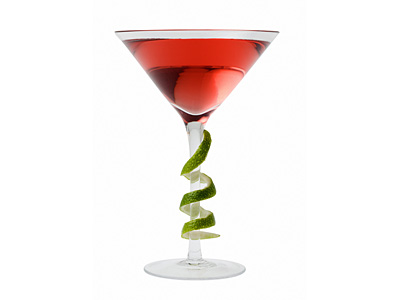 Preparation Time:
3 minutes
Ingredients:
60 ml (2 oz) Vodka
30 ml (1 oz) Cointreau
30 ml (1 oz) Cranberry Juice
10 ml (1/3 oz) Fresh Lime Juice
1 Long Lime Peel
Ice Cubes
Directions:
Add vodka, cointreau, cranberry juice and fresh lime juice in ice filled shaker and shake for approx. 30 seconds or until icy chilled.
Strain and pour prepared cosmo cocktail into chilled serving glass.
Garnish with lemon peel and serve.
Tips and Variations:
Use orange liqueur if cointreau is not available.
Add lime juice directly into chilled cocktail glass instead of shaking it along with other ingredients in shaker for different taste.
Serving Ideas:
It is suitable for any and every occasion. Serve it on the rocks if you like it get diluted as you sip through it.