Lime Martini Recipe
Lime Martini is a variation of Key Lime Pie Martini where milk or cream is avoided to get truly tantalizing lime flavor. Discover how to make refreshing and rejuvenating martini with ingredients and method given below.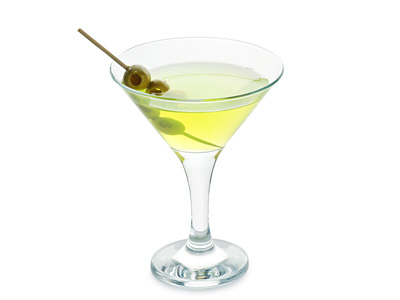 Preparation Time:
3 minutes
Glassware:
Cocktail glass
Ingredients:
60 ml (2 oz) Vodka
30 ml (1 oz) Cointreau
1 teaspoon Bar Sugar
Half Lime
3 olives
3 cups Ice
Directions:
Martinis taste best only when served in chilled cocktail glass. Bury martini glass in 2 cups ice.
Add remaining 1 cup ice in cocktail shaker, add all ingredients (except lime wedge and olives) in it. Shake for 25-30 seconds to chill the cocktail and completely dissolve bar sugar.
Squeeze out juice of half lime in cocktail shaker and shake again for few seconds.
Take out chilled glass from crushed ice, strain and pour mixed drink into it.
Garnish lime martini with skewered olives and serve.
Tips and Variations:
Replace bar sugar with 1 teaspoon simple syrup for faster preparation.
Instead of mixing lime juice in cocktail shaker, splash it directly on the martini. This will cover the vodka with a layer of lime juice, giving it a different taste.