Rosemary Martini Recipe
Put your pear cider or pear brandy to a better use. Make fragrant rosemary martini with it for an out of the world cocktail experience. This refreshing and soothing cocktail is a medley of two parts vodka, half part pear cider, one part rosemary syrup and a splash of fresh lemon juice.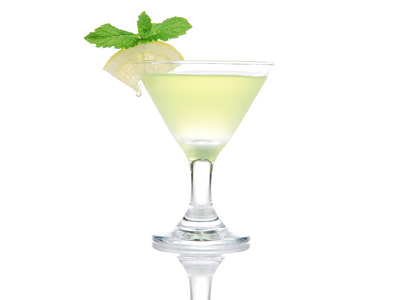 Preparation Time:
3 minutes
Ingredients:
60 ml (2 oz) Vodka
15 ml (1/2 oz) Pear Cider
30 ml (1 oz) Rosemary Syrup
20 ml (2/3 oz) Lemon Juice
1 Lemon Wedge
Ice
Directions:
Pour vodka, pear cider, rosemary syrup and fresh lemon juice in ice-filled cocktail shaker and shake well.
Strain and pour mixed drink in chilled martini glass.
Slide lemon wedge on the rim as garnish and serve.
Tips and Variations:
If pear cider is not available, then use apple cider or pear brandy in same measure.
Instead of mixing sparkling pear cider into cocktail shaker, stir it with vodka and rosemary syrup for a different flavor. Make sure that all ingredients are absolutely chilled.
You can also use black olives skewered on a rosemary stick for garnish.
Serving Ideas:
Enjoy this super cool cocktail on warm summer evening while reading your favorite author.