Pear Martini Recipe
Pear Martini is one of the newest additions in cocktail family. It is a refreshingly fruity cocktail drink made with pear puree and vodka.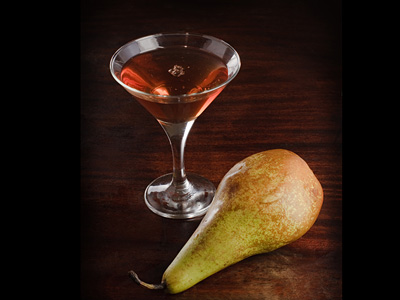 Preparation Time:
3 minutes
Ingredients:
50 ml (1 2/3 oz) Vodka
15 ml (1/2 oz) Pear Nectar or Puree
10 ml (1/3 oz) Simple Sugar Syrup
5 ml (1/5 oz) Lime Juice (optional)
1 slice of Pear
Ice Cubes
Directions:
Fill cocktail mixer with ice cubes.
Add all ingredients (except slice of pear) in it and shake vigorously.
Strain and pour prepared mixed drink into serving glass.
Garnish with a slice of pear and serve.
Tips and Variations:
If pear nectar is not available, then use its liqueur in same quantity.
Use super fine sugar powder instead of plain syrup. If you are using sugar powder, then shake for little longer so that it dissolves completely.
Serving Ideas:
This relatively new cocktail is fast catching up as a party drink. It can also be served as dessert.