Cranberry Pomegranate Martini Recipe
Want to serve a libation that is something different from routine cocktail during Thanksgiving dinner but still want to include flavor of the season? Then try cranberry pomegranate martini. This simple concoction of flavored vodka, cranberry juice, pomegranate juice, orange liqueur and lime juice tastes best and it's delightful color matches the occasion and season.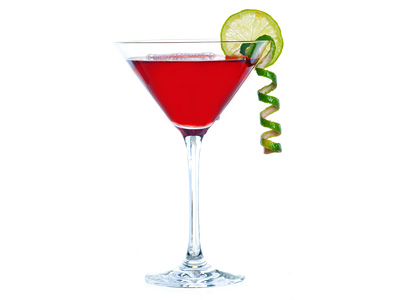 Preparation Time:
3 minutes
Ingredients:
60 ml (2 oz) Pomegranate Vodka
30 ml (1 oz) Cranberry Juice
30 ml (1 oz) Pomegranate Juice
15 ml (1/2 oz) Cointreau
10 ml (1/3 oz) Lime Juice
1 Lime Twist
1 Lime Wheel
Ice Cubes
Directions:
Take first four ingredients in cocktail shaker. Fill cocktail shaker with ice until its 2/3rd full.
Shake cocktail shaker thoroughly until it frosts from outside. Strain and pour cranberry pomegranate cocktail drink into chilled martini glass.
Garnish with lime twist and wheel on the rim.