Shirley Temple Drink Recipe
Having a hard time explaining to kids at table while you enjoy the alcoholic drinks? Give them something like layered non-alcoholic Shirley temple drink. This recipe does not follow the classic preparation as its kind of boring and not that tempting, instead it creates more inviting and eye pleasing mocktail using the same ingredients. Read on to find out how!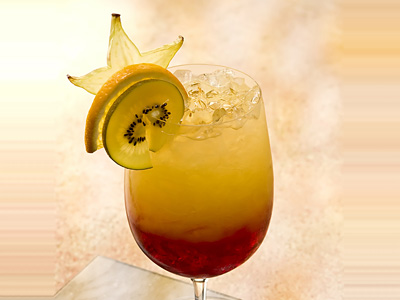 Preparation Time:
2 minutes
Ingredients:
1 oz (30 ml) Grenadine Syrup
3 oz (90 ml) Lemon Lime Soda (Sprite or 7Up)
3 oz (90 ml) Ginger Ale
3 oz (90 ml) Freshly Brewed English Breakfast Tea (cold)
1 Starfruit Slice, Orange Slice and Kiwi Fruit Slice OR 3 Maraschino Cherries
Crushed Ice
Directions:
Pour grenadine syrup in the serving glass and then fill it up with crushed ice until 2/3rd full.
Pour lemon lime soda and ginger ale simultaneously. Stir if desired or just leave it to be a layered drink.
Slide all fruit slides on the rim or if you are using traditional maraschino cherries as garnish then skew them on cocktail pick and rest it on the side of rim.
Tips and Variations:
The original shirley temple recipe uses only ginger ale and grenadine syrup and it requires first pouring ginger ale over ice in collins glass followed by stirring grenadine syrup in it.