Frozen Margarita Recipe
It's a best homemade margarita you will ever have! It's got citrusy zing with smooth and subtle agave flavor of Reposado tequila. Salted rim makes wonders to its palatability.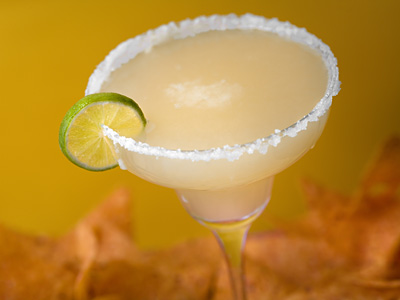 Preparation Time:
3 minutes
Glassware:
Cocktail glass
Ingredients:
1½ oz (45 ml) Reposado Tequila
3/4 oz (23 ml) Cointreau
3/4 oz (23 ml) Lime Juice
1/2 oz (15 ml) Simple Syrup
1 Lime Wheel
Coarsely Ground Sea Salt
Crushed Ice
Directions:
Wet the outer rim of glass by running lime wedge around it. Dip the glass' rim in sea salt spread on the flat plate.
Blend first four ingredients with 1-12 oz-scoop of crushed ice until slushy.
Transfer it to serving glass and rest lime wheel on the rim. Serve with a straw.