Alaska Cocktail Recipe
It is a strong and complex martini where dry vermouth is replaced by chartreuse. The couple of dashes of orange bitters compliments the herbal flavors of yellow chartreuse and botanical flavors of gin and gives a new dimension to its palatability. Must try drink for all gin and chartreuse aficionados.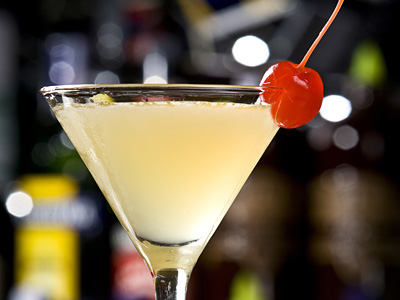 Preparation Time:
2 minutes
Ingredients:
2½ oz (75 ml) London Dry Gin
3/4 oz (22 ml) Yellow Chartreuse
2 dashes (8 drops) Orange Bitters (Optional)
1 Maraschino Cherry or Orange Twist (For Garnishing)
Ice Cubes
Directions:
Take all ingredients in a mixing glass and add few ice cubes in it. Stir long until its well diluted and chilled.
Strain into chilled serving glass and garnish the drink.
Tips and Variations:
Do not add bitters to make it more modern and appealing to all.
Add 1 oz (30 ml) dry sherry and shake all ingredients with ice in cocktail shaker for classic Alaska cocktail.