Candy Apple Martini Recipe
Candy apples are specialty treat during autumn festivals. This candy apple cocktail extends the treat to candy apple lovers who also wants to have kick of cocktail too.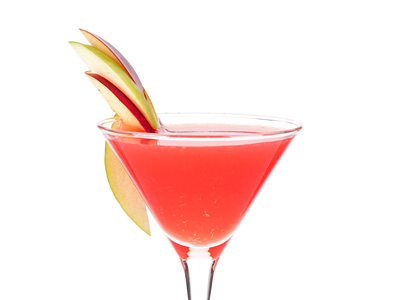 Preparation Time:
3 minutes
Glassware:
Cocktail Glass
Ingredients:
30 ml (1 oz) Vodka
30 ml (1 oz) Sour Apple Liqueur
30 ml (1 oz) Grenadine
15 ml (1/2 oz) Cranberry Juice
2 thin slices of Green and Red Apples Each
1 cup Ice Cubes
Directions:
Place ice cubes into cocktail shaker and add vodka, sour apple liqueur, grenadine and cranberry juice in it.
Shake the cocktail shaker for 30 seconds or until frosted from outside.
Strain and pour mixed drink into chilled martini glass. Garnish with slices of apple as shown in photo and serve.
Tips and Variations:
Use candy apple syrup instead of grenadine for true taste of candy apple.
Prepare a stack of red and green color apple slices and put it through skewer, dip it in apple juice, chill it in freezer and use it as garnishing. This will make martini look similar to candy apple.
Serving Ideas:
Serve it as dessert or party drink. This is a great seasonal cocktail to enjoy during autumn and winter.