Jack Rose Cocktail Recipe
This forgotten cocktail of yesteryears is an apple brandy based strong mixed drink with divine taste and flavor of apple and lemon. Learn how to make tempting red hued jack rose cocktail drink with this simple mixed drink recipe.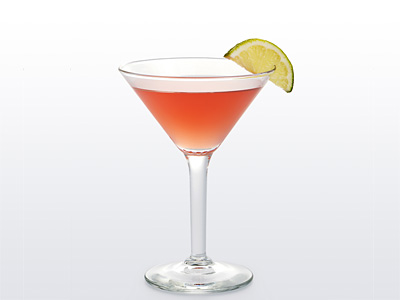 Preparation Time: 3 minutes
Ingredients:
60 ml (2 oz) Applejack or Apple Brandy
20 ml (2/3 oz) Fresh Lime Juice
15 ml (1/2 oz) Grenadine
1 Lime Wedge (for garnishing)
1 cup Crushed Ice
Directions:
Fill up cocktail shaker with crushed ice until half. Add applejack, fresh lime juice and grenadine in it and shake until fully chilled.
Strain and pour chilled mixed in cocktail glass.
Garnish with lime wedge and serve.
Taste:
It looks rosy red due to grenadine and tastes strong and sweet like apple with mild sourness of lemon juice.
Serving Ideas:
Serve it straight up in chilled martini glass as pre-dinner drink. Because of its red color similar to that of romantic rose, it can be served in all girl's and bachelorette parties too.