Dirty Martini Recipe
Every true cocktail lover would swear by the taste of dirty martini, a cocktail prepared with gin, vermouth and olive brine or olive juice. This recipe uses olive brine. Learn how to mix this heavenly cocktail at home and take your mixology skills to next level.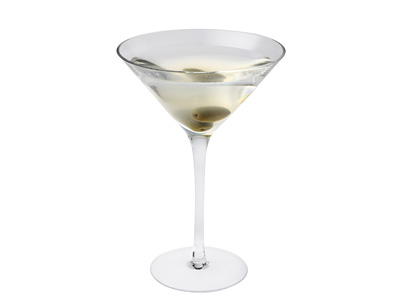 Preparation Time:
5 minutes
Ingredients:
50 ml (1 2/3 oz) Gin
10 ml (1/3 oz) Dry Vermouth
15 ml (1/2 oz) Olive Brine
3 Whole Green Olives
Ice Cubes
Directions:
Slide through whole green olives in cocktail pick for garnishing
Take all ingredients into a cocktail mixer and shake vigorously.
Strain and pour prepared mixed drink in martini glass.
Garnish with skewered green olives and serve.
Tips and Variations:
If olive brine is not available, use strained fresh olive juice.
You can also serve it on the rocks. Many drink lovers prefer to have martini on the rock as melting ice dilutes the strong taste of gin.
If you like stirred martini, then do not add dry vermouth in shaker, instead pour it into serving glass and coat its surface by gently swirling the glass 2-3 times. Discard excess vermouth or use it to make another drink; strain the gin and olive brine mix into chilled serving glass.
Taste:
Stronger taste of vodka mixed with dry vermouth with lots of heavenly flavor of olive brine.